Thermo-Calc 2023a Available Now
Highlights of Thermo-Calc 2023a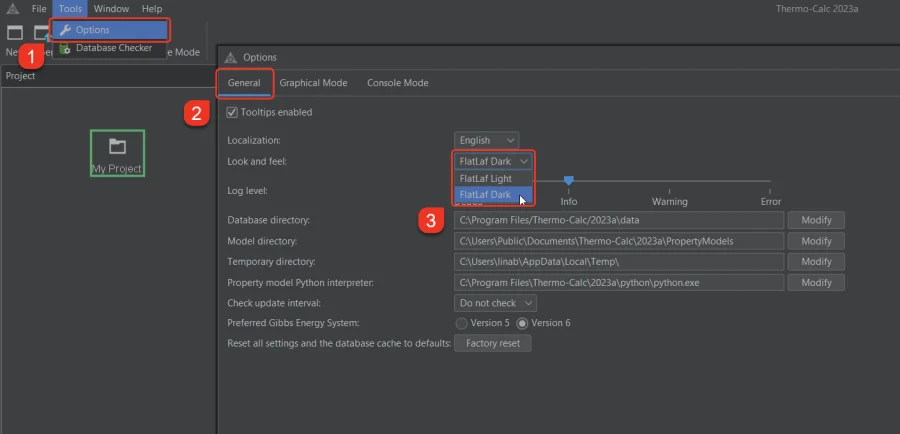 Calculate Temperatures Below Solidus
The Scheil Calculator now allows users to calculate solid state properties at temperatures below the solidus temperature, down to room temperature. This new feature is only available for the properties that use the new freeze-in evaluation method listed above.
Calculate Evaporation Properties Above Liquidus
Three new evaporation properties have also been added to the Scheil Calculator, which allow users to calculate evaporation above liquidus: molar mass of gas, driving force for evaporation, and evaporation enthalpy.

The template for the Additive Manufacturing Module on the home screen of Thermo-Calc.

Eight New and Updated Databases
New Databases
MOBZR1: Zr-alloys Mobility Database
8 elements: Cr, Fe, Nb, Ni, Sn, O, H, Zr (the same as TCZR1)

3 phases: BCC_A2, HCP_A3 and LIQUID

Assessed systems (BCC_A2 and HCP_A3): The unary systems and some of the binaries (Cr-Fe, Cr-Ni, Cr-H, Fe-H, Fe-Ni, Fe-O, Nb-H) already exist in the other mobility databases. The mobility parameters were tested for compatibility and combined with the assessments. Mobility parameters for the Zr-Cr, Zr-Fe, Zr-H, Zr-Nb, Zr-Ni, Zr-O, and Zr-Sn systems have been assessed.
TCOX12: Metal Oxide Solutions Database
Adds three new elements: B, Hf, and Yb

Adds B: Assessed or added from literature 20 binary, 21 ternary, and 10 higher order systems

Adds Hf: Assessed or added from literature 24 binary, 11 ternary, and 8 higher order systems

Adds Yb: Assessed or added from literature 24 binary, 10 ternary, and 8 higher order systems
Extends the GARNET phase description

Includes complete gas description

Many new systems are assessed and many existing systems are reassessed
TCTI5: Ti/TiAl-based Alloys Database
Updates to ternary systems: Ti-Al-X (X=B, C, Cr, Mo, Nb, O, Si, Sn, W, Zr)

Adds newly assessed ternary: Ti-Si-Zr

Adds full gas descriptions

A change to default settings was made so that the GAS phase is restored by default when retrieving the data from the database. It now must be manually rejected when it is not required for a calculation.
Liquid in Ti-V and Ti-Al-V

AlTi3_D019 in Ti-Al-O

BCC_A2 in Ti-H

HCP_A3 in Ti-O and Ti-N
MOBHEA3: High Entropy Alloys Mobility Database
Atomic mobility parameters for all BCC_A2 binary systems have been assessed or estimated and then updated

Validated in the Zr-Nb-Ta-Ti, Zr-Nb-Hf-Ti and Al-Fe-Cr-Mn-V systems
Updated Databases
TCHEA6.1: High Entropy Alloys Database
Reassessed two binary systems: Cr-Mn, Ir-Nb.

Reassessed seventeen ternary systems: Al-Cr-V, Co-Cr-Fe, Co-Cr-Mn, Co-Cr-Ni, Co-Fe-Mn, Co-Fe-Ni, Co-Mn-Ni, Cr-Fe-Mn, Cr-Mn-Ni, Cr-Mo-Nb, Cr-Mo-Ti, Cr-Nb-V, Fe-Mn-Ni, Fe-Ni-W, Mo-Nb-V, Re-Nb-V, and Re-V-W

Validated the Co-Cr-Fe-Mn-Ni quaternary system in full temperature and composition space (7 isopleths)
TCAL8.2: Aluminum-based Alloys Database
Corrected an error in the molar volume of the B2 phase in the Al-Fe-Ni system
TCCU5.1: Cu-based Alloys Database
Corrected an error in the molar volume of the B2 phase in the Al-Fe-Ni system

Included complete gas description
MOBTI4.1: Ti/TiAl-based Alloys Mobility Database
Modified the impurity diffusivity parameter of nitrogen in HCP_A3 titanium