About the Additive Manufacturing Module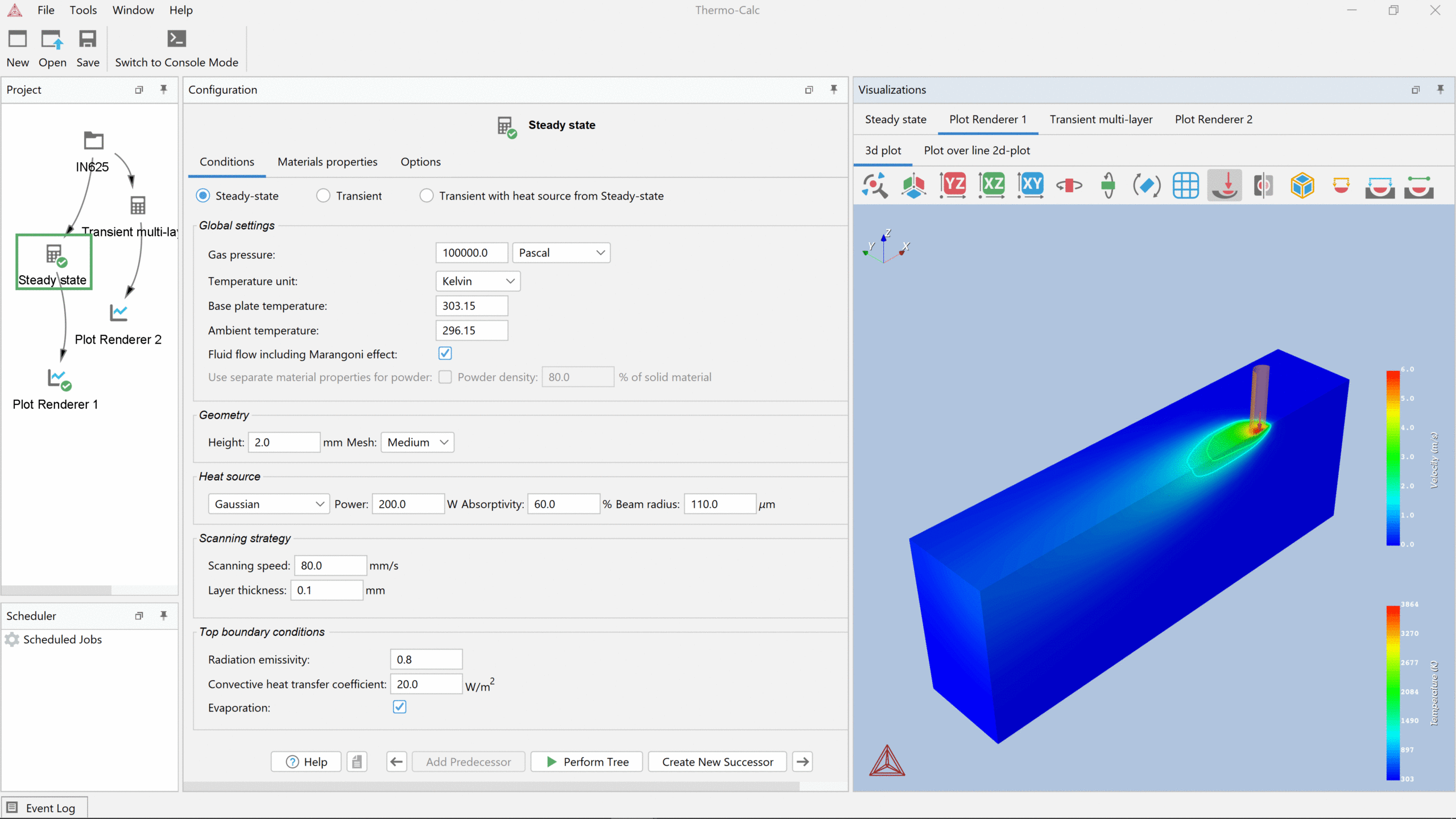 The Additive Manufacturing Module Allows You To Calculate
Steady-State
Size of melt pool

Peak temperature

Velocity of fluid flow

Property variations through the melt pool (temperature, viscosity, thermal conductivity, density) or any selected line

2D Sectioning in any plane
Transient and Transient with Heat Source from Steady State
Temperature vs. Time response at selected position of the build and how this changes with Process Parameters

Time-dependence of the properties listed above under Steady-State
Seamlessly Couples to Other Modules
Steel and Fe-alloys Database (TCFE13)

Nickel-based Superalloys Database (TCNI12)

Magnesium-based Alloys Database (TCMG6)

Copper-based Alloys Database (TCCU6)

Titanium and TiAl-based Alloys Database (TCTI5)

Noble Metal Alloys Database (TCNOBL3)

High Entropy Alloys Database (TCHEA6)

Aluminum-based Alloys Database (TCAL8) - note that in TCAL8, the gas phase is rejected by default and needs to be manually selected by you. TCAL9 is planned for release late 2023 and will address this.
Getting Started Guide
Learn how to get started with calculations in the Additive Manufacturing Module in this Getting Started Guide. Users will learn how to set up a common workflow in the Additive Manufacturing Module, which involves calculations using the Steady-State and Transient with heat-source from steady-state simulation modes in the Graphical Mode of Thermo-Calc.
Webinar Recording
Demonstration of the New Additive Manufacturing Module
Learn about the Additive Manufacturing Module in this webinar recording, which gives an overview of the module, followed by a demonstration of how to: generate the materials data needed for the simulation, setup different calculation types, analyze results, and couple results to other modules. We also give a preview of the current development and have a Q&A session.