Thermo-Calc 2020b is Released
Highlights of the 2020b Release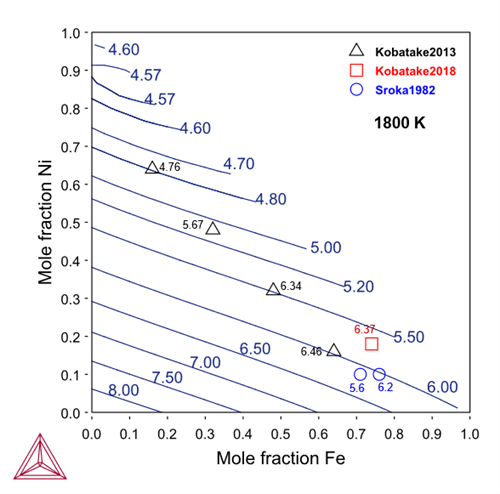 Yield Strength Property Model Improvements
Grain boundary strengthening is assessed for all elements and is optimized for pure elements.

The Hall-Petch parameter, k_hp, which is used to estimate the grain size hardening, is now estimated by a relation to the melting point for the pure element if k_hp is not explicitly determined from experiment.

Solid solution strengthening is re-optimized to be compatible with all other contributions.

The Model shows a better fit to experimental data.

The Model now allows users to set more than one precipitating phase when calculating precipitation strengthening.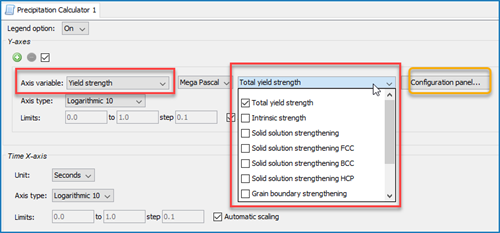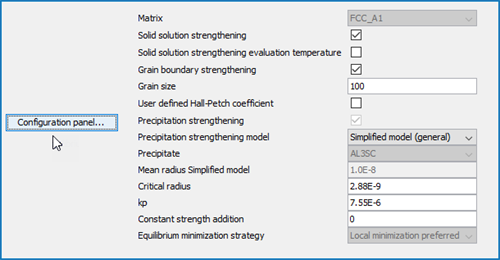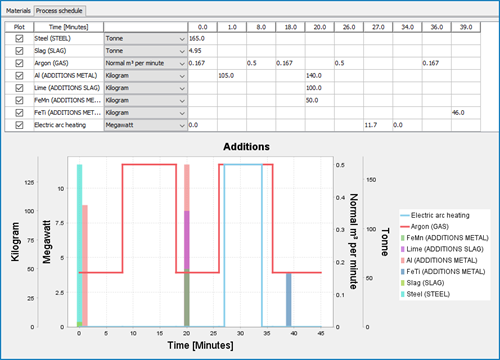 A Kinetic and Thermodynamic Description of the Steel Making Process using Thermo-Calc and the CALPHAD Database TCOX |

Read the Paper

The Application of an Effective Equilibrium Reaction Zone Model Based on CALPHAD Thermodynamics to Steel Making |

Read the Paper
PMET_04_Basic_Oxygen_Furnace_Kinetics.tcu

PMET_05_Lab_Scale_Ladle_Furnace_Kinetics.tcu

PMET_06_Ladle_Furnace_Kinetics.tcu
Highlights of the 2020b changes are
Added new minor-alloying elements: Nb, P, and Y.

Al-P, P-Si, P-Zn, Al-P-Si, and Al-P-Zn are modeled. The systems help to predict the formation of the ALP phase in aluminum alloys and to interpret its impacts on the microstructure modification.

Al-Nb, as well as Nb-Ti and Al-Nb-Ti, is modeled for the minor-alloying element Nb.

Al-Y, as well as Ti-Y and Al-Ti-Y, is modeled for the minor-alloying element Y.

Six more Al-containing ternary systems are modeled, Al-C-Cr, Al-C-Mg, Al-C-V, Al-Cr-Mg, Al-Mg-Ti, and Al-Si-Sr, to make the Al-rich multi-component description more complete.
The semi-coherent version of the quaternary Q_ALCUMGSI phase is modeled as a metastable phase, QPRIME. It is expected to be used in precipitation simulations.
Al-C is updated taking into account the most recent modeling work.

Si-Sr is updated and now reproduces the most recent modeling work.

Al-C-Si is updated with the improved Al-C binary description.

Al-Sc-Si is updated by modeling the Si solubility in the AL3X (Al3Sc-based) phase, which is a strengthening precipitate in some aluminum alloys

Al-Fe-Mg-Si: the quaternary phase π-AL18FE2MG7SI10 is refined to make better predictions for solidification and lower temperature heat treatments of related aluminum alloys.

Al-Fe-Mn-Si is updated by modeling the Mn solubility in AL8FE2SI.

Cr and Mo are introduced to the Al15Si2M4 (M = Cr, Fe, Mn and Mo) phase, which is of industrial importance in Al-Mn-Si and Al-Fe-Mn-Si based alloys.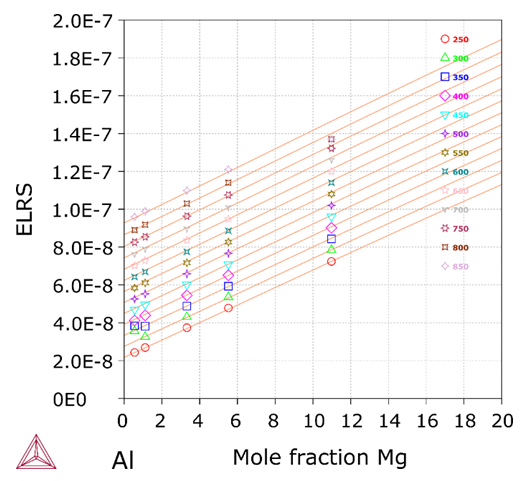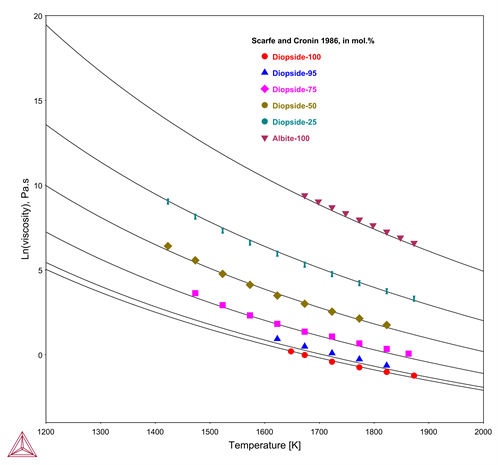 Highlights of the some other 2020b changes to this database are:
Addition of three new elements: N, Na, H (Hydrogen only in gas).

N: Added description of 17 binary and 28 ternary systems. Nitrogen is only assessed in metallic systems, so for example SiAlONs are not described in this database.

Na: Assessed or added from literature eight binary metallic systems. Added Na-O from literature and assessed the Na-S system. Assessed eight ternary Me-Na-O and 11 higher order oxide systems.

These systems are assessed: C-Ca-O and C-Mg-O.

These systems are reassessed: Cr-O, Ca-Cr-O, Cr-Si-O, Ca-Cr-Si-O.

Minor changes to these systems: Co-Ni-O, Co-Fe-Ni-O, Co-Fe-Ti-O, Mo-O, Al-Mo-O, Mg-Mo-O, Mn-Mo-O, Mo-Ni-O, Nb-O, La-P-O, P-Zr-O, Ti-Zr-O.

Assessed a separation between liquid metal and SiO2 in these Me-O-Si systems: Me = Ca, Gd, La, Mg, Mo, Nb, Ni, P, Ti, V, W, Y, Zr.
Highlights of the 2020b changes are:
Nb-Ni metastable BCT_D022 updated to fit data on γ'' solvus temperature in commercial superalloys.

The solubility of S in γ-Ni has been assessed.
Al-Co-W system was updated to fit better experimental data and no longer has stable L12 at 900 °C.

Al-Hf-Ni system revised to better describe liquidus, solidus, and liquid activity as well as γ' boundaries and activity.

Al-Ni-Pt system updated to better describe liquid activity and melting interval data.

Al-Ni-W system revised to better fit the known melting interval and improve liquid/γ partitioning in higher-order alloys.

Co-Hf-Ni liquid and γ phases updated to better describe the melting intervals of high-Co Ni-base alloys.

Co-Ni-W system updated to fit more recent data on the varying ternary solubility of the ALTI3_D019 phase.

Co-Ni-V has been partially assessed by adding Co to BCT-D022, and FCC and liquid have been adjusted to give approximate isothermal and isoplethal sections.

Nb-Ni-Ti system modified to be closer to the known phase diagram.
ALTI3_DO19 name (where O is a letter) is changed to ALTI3_D019 (where 0 is zero), which is consistent with the Strukturbericht designation. Users are advised to update their macros involving this phase.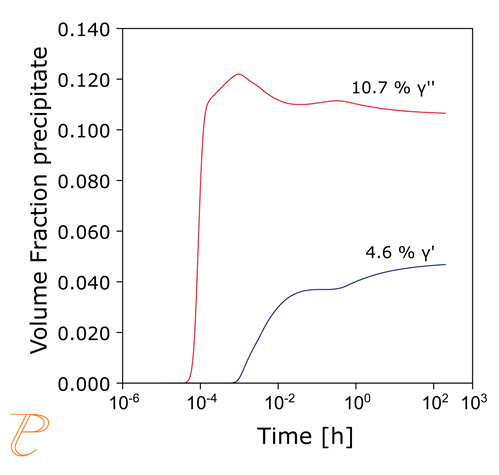 Six Updated Thermodynamic Databases
TCHEA4 TCS High Entropy Alloy Database (Version 4.1)

TCTI2 TCS Ti/TiAl-based Alloys Database (Version 2.2)

TCSLD3 TCS Solder Alloy Solutions Database (Version 3.3)

TCFE10 TCS Steel and Fe-alloys Database (Version 10.1)

TCAQ3 TCS Aqueous Solution Database (Version 3.1)

GCE2 TCS Geochemical Environmental Database (Version 2.4)