Steel refining

Ladle Furnace (LF) process

Effective Equilibrium Reaction Zone model (EERZ)

Steelmaking

Process Metallurgy Module
About Steel Refining in a Ladle Furnace
Temperature control / heating by an electrical arc.

Mixing by Ar or N2 bubbling through porous plugs in the bottom of the ladle to achieve homogeneous temperature and composition throughout the ladle.

Removal of unwanted non-metallic phases / inclusions such as corundum (Al2O3), liquid oxide inclusions, spinel, and so on, by flotation, aided by Ar or N2 bubbling.

Modification / engineering of non-metallic inclusions so that they are not detrimental for the downstream processing and/or the final product.

Removal of unwanted volatile elements such as Pb, Zn, Sn, and so on. Due to their high vapor pressure, these elements are enriched in the rising Ar or N2 bubbles. After the gas escapes out of the ladle and cools, they condense, forming copious amounts of dust.

Removal of unwanted elements such as sulfur by liquid steel / slag reactions.

Lowering of the dissolved gas content. In the LF this is mainly achieved through chemical reactions. For direct removal of dissolved gas, vacuum degassing (VD) is usually required.

Alloying and trimming of the steel to achieve the exact alloy composition required by the specification of the steel that is to be produced.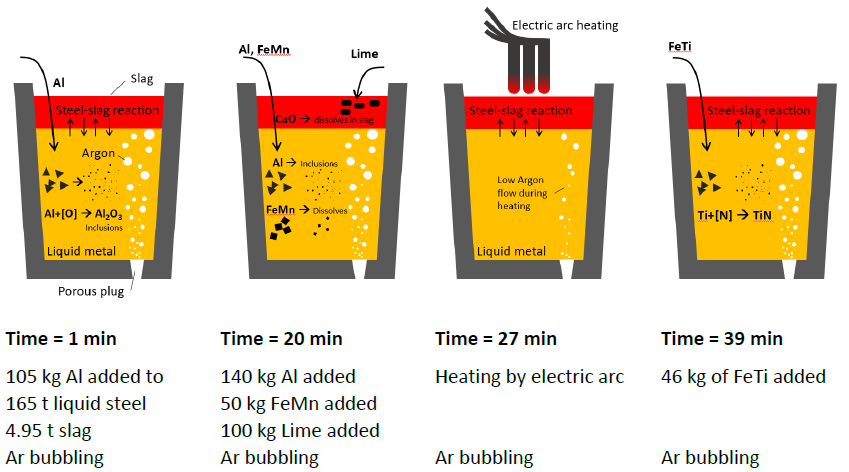 This in-depth example includes:
A description of the kinetic model used in the Process Metallurgy Module

An explanation of how to set up a kinetic simulation in the Process Metallurgy Module

A discussion on the steel refining process

Interpretation of the results