Thermo-Calc 2020a is Released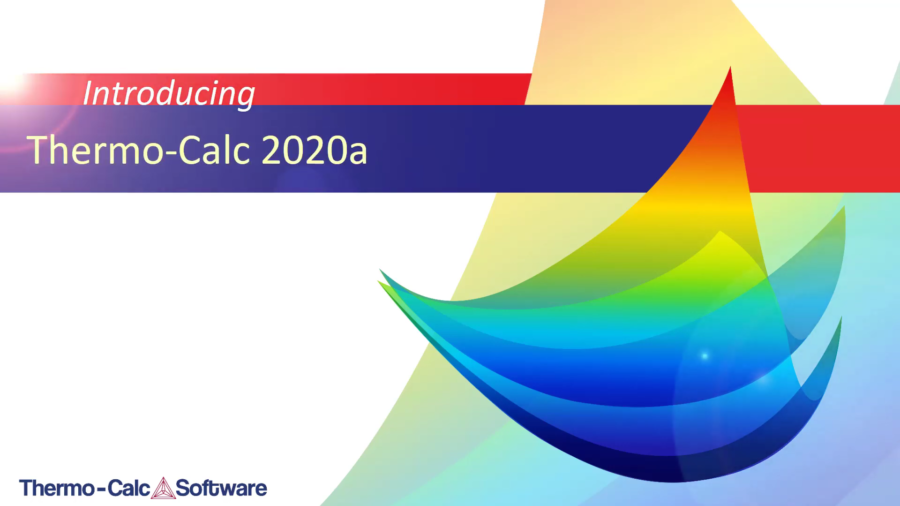 Highlights of the 2020a Release
New Steel and Fe- alloys Databases

New High Entropy Alloys Databases

New General Alloy Solutions Database

Updated Databases for Nickel and Copper

Scheil with Back Diffusion in the Primary Phase

Adiabatic Calculations added to the Process Metallurgy Module

New General Model for Yield Strength

New Calculation Type in TC-Python called Batch Equilibrium

Viscosity of Metallic Liquid added to TCFE10 and TCHEA4
TCFE10 receives several important updates:
Ruthenium is added, bringing it to 29 elements

53 new binary and 10 new ternary systems are assessed

27 binary and ternary systems are updated

Includes the viscosity of metallic liquid

Better predictive capacity for nitrogen alloyed duplex stainless steels

A split description of A2/B2 and A1/L12 phases

Crystal structure info for all included phases
MOBFE5 is updated to correspond to TCFE10:
Added mobility of Ru

Added mobility of C and W in FCC-Co

Revised default composition sets (type_defs)

Updated the reference states of elements according to PURE5
TCHEA4 receives several important improvements:
49 ternaries added

12 ternaries improved

13 binaries added (mainly Ir-, or Rh)

1 binary update (Al-Ti)

Includes the viscosity of metallic liquid

Added crystal structure information in some phase-names

Included more research references on database applications
MOBHEA2 is updated to correspond to TCHEA4:
All atomic mobilities for pure elements are updated

CoCrFeNi, CoFeMnNi, and CoCrMnNi systems assessed

CoCrFeMnNi, CoCrFeNi, and AlCoCrFeNi systems assessed

The database was validated in the AlCoCrFeNiTi system

Ir, Rh, Sn, and Zn are added
New General Alloy Solutions Database
7 ternaries added

108 binaries added

~45 improved binaries

New elements in the GAS phase: C, Cd, Mg, Nd, Ni, P & Te
TCNI9 (v9.1)
A new description of the Al-Ni-Pt system

All L10 phases merged into FCC_L10 phase

Mn-Pt description revised

Default composition sets (type_defs) revised

Reference states of elements revised according to PURE5
MOBNI5 (v5.1)
Default composition sets (type_defs) revised

Reference states of elements updated according to PURE5
TCCU3 (v3.1)
Description of liquid in Al-Cu-O system revised
Scheil with Back Diffusion in the Primary Phase
This new feature uses diffusion data, so it requires a mobility database. The demonstration mobility databases work for up to three components, but more advanced calculations require the applicable database license.

It is available in the graphical mode, console mode and TC-Python.

A new example calculation showing this feature is available for each of the three modes:

Graphical mode example T_10_Scheil_with_back_diffusion.tcu

Console mode example TCEX48

TC-Python example pyex_T_15_Scheil_back_diffusion.py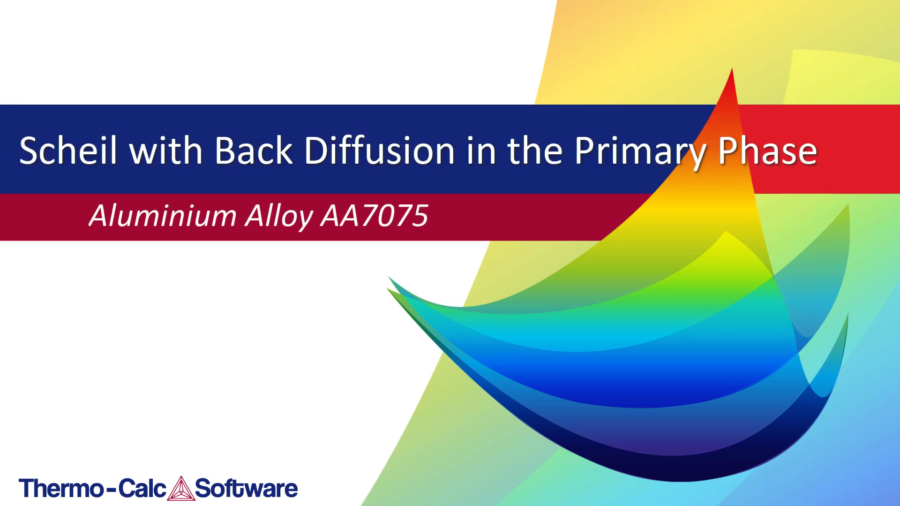 Other Additions to the Process Metallurgy Module
Variable pressure is added to the module, allowing you to vary the pressure as well as set it as an axis variable to step in pressure.

Component composition can now be calculated for all oxide phases where that is possible (i.e. also solid oxide phases). You are able to choose the mass percent of solid oxides in both tables and plots. Liquid oxides were already available in the last release. Also the composition of all oxide phases can now be plotted per component instead of per element.

There is a new normal cubic meters (Nm3) unit used for the gas phase and volume percent at gas composition.

Added a number of input components: CaC2, CaCO3, MgCO3, Cu2O3, CrO3, WO2, FeO2, Ni2O3, CrO2, VO2, MnO2, TiO, VO, NbO2. The following components are now also used for the calculation of oxide component compositions: Cu2O3, CrO3, WO2, FeO2, Ni2O3, CrO2, VO2, MnO2, TiO, VO, NbO2.
New General Model for Yield Strength
PM_G_04_Yield Strength.tcu. The example compares the Simplified and Seidman models yield strength versus precipitate radius to experimental data for an Al-0.3wt%Sc alloy.

PM_G_05_Yield Strength_NiAlCr.tcu. Using the Reppich model, the example shows a calculation of the precipitation strengthening vs precipitate radius in a Ni-10at%Al-10at%Cr alloy

PM_G_06_Yield Strength_HEA.tcu. The example shows the solid solution strengthening over the full solubility range for the Mo-Ta system as compared to experimental data.