Thermo-Calc Cited Over 1000 Times in 2015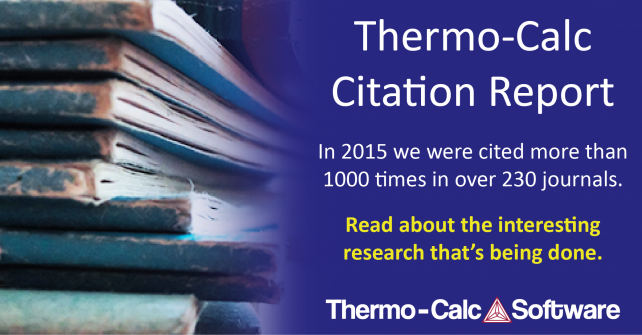 Published in 231 Different Journals
Metallurgical and Materials Transactions A (68 papers)

Journal of Alloys and Compounds (46 papers)

Acta Materialia (41 papers)

Calphad (40 papers)
Did You Know?
Thermo-Calc was used in the analysis of Japanese swords[7] and in the field of archeometallurgy[8] and gold recovery methods[9].

Thermo-Calc was published in at least 12 languages other than English, including Chinese, Japanese, Russian, Finnish, and Polish. China published the most, with 286 articles. The USA followed with 149 articles and Japan with 99.

In the 1045 articles reviewed, organisations from 59 countries cited our products.

There were 235 collaborations between countries and many other collaborations between organisations in the same country. The top collaboration between countries was China and the USA, who had at least 24 projects together.
Popular Research Areas
The National Energy Technology Laboratory (USA) used Thermo-Calc and TCNI database: 'Design of Refractory High-Entropy Alloys'[11].

Collaboration between Forschungszentrum Julich (Germany) and Delft University of Technology (The Netherlands) used Thermo-Calc and DICTRA plus the MOBNI and TCNI databases: 'A new computational approach for modelling the microstructural evolution and residual lifetime assessment of MCrAlY coatings'[12].
Researchers at MINES ParisTech (France) used Thermo-Calc and DICTRA with the TCAL and MOBAL databases: 'Analytical model for equiaxed globular solidification in multicomponent alloys'[13].

University of Florida (USA) researchers used Thermo-Calc and the TCAL database: 'Development of an ICME Approach for Alumninum Alloy Corrosion'[14].
Theses Published in 16 Countries
Bi-Cheng Zhou at Pennsylvania State University (USA) used the PARROT and Scheil modules with Thermo-Calc and the TCMG database: 'A Computational Study of the Effects of Alloying Elements On the Thermodynamic and Diffusion Properties of Mg Alloys'[15].

Masoud Al Gahtani at the University of Wollongong (Australia) used Thermo-Calc and DICTRA with the TCFE and MOB databases: 'Formation of micro-structural banding in hot-rolled medium-carbon steel'[16].

Zi-yong Hou at KTH Royal Institute of Technology (Sweden) used Thermo-Calc, DICTRA and TC-PRISMA as well as the TCFE and MOBFE databases: 'Study of precipitation in martensitic Fe-C-Cr alloys during tempering: Experiments and modelling'[17].